It all started with an innocent post on reddit.com that I found in February. Actually it was anything but innocent but it linked to a Google street view picture of Banff National Park in Canada. And I thought it'd be awesome to bike there. At this point I had not ridden a bike in nearly a decade.
So when the snow from DC's blizzards melted I went biking with my friend Ryan. And it was fun. I kept it up and before long I started planning out my bike trip. I wouldn't be able to go to Canada because if I left in July or August it would be too cold by the time I got there. But that couldn't curb my enthusiasm and I spent my waking hours working out details for my trip. And on August 10th I got on my bike and headed northwest out of the DC area with the intention of making it to the west coast. It was only then that I had doubts about being able to do it. Besides that one day I remained stupidly optimistic about my trip. And I think you have to with this sort of thing.
At the beginning of the trip miles went by very painfully and slowly. There were of course times when the hours flew by but it wasn't until Kansas or Colorado that I found my rhythm and the trip became less arduous. In Missouri I hit what I called a "mid-trip crisis." My next destination was Denver, 600+ miles away and I had trouble mentally connecting the miles I was pedaling with the distance to my next stop. I often would find myself inching along at maybe 7 miles per hour due to lack of drive. But I kept at it. Never turned back. I had set a goal for myself and nothing was going to stop me.
So now I've finished my trip. I moved my legs the requisite number of times and found myself on the west coast. But there's more to it than that. Each day was different (except for Kansas) and I saw some awesome scenery and met some amazing people along the way.
Arithmomania
I enjoy looking at trends in data sets and my bike trip is no exception.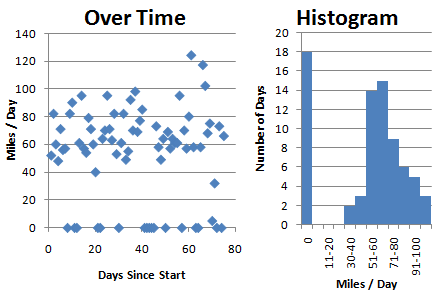 Mileage / Day
My mileage per day only went up slightly as the trip went on. I think the reason for this is because I was able to do the same mileage with more ease and instead of pushing myself I was just taking it easy. Also, Mountains.
Total Miles: 3987
Total Days: 75
Rest Days: 18
Days on the Road: 57
Average Mileage / Day (not including rest days): 70 (69.94)
Longest Stretch Between Rest Days: 10 days (738 miles)
Longest Day: 124 miles
Fastest Speed: 42.8 mph
Strawberry

Corn Fields Forever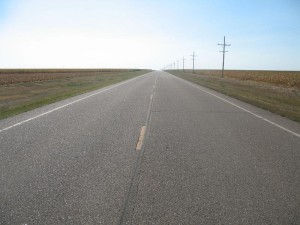 To be perfectly honest, all of the places in the first half of the trip kind of blur together. If I think about it I can remember where I stayed every night, where I ate every meal, and maybe even every turn I took. But visually it was all pretty similar. Corn fields, then soy fields, then corn fields, then more soy. However, as long as I could see the sky I never got sick of the views. And this part of the country is where I got chased by dogs the most, so I was kept on my toes trying to avoid them which always helps to alleviate boredom.
Once I got past Kansas the scenery got much more memorable. Colorado was without a doubt the best state. There was so much diversity to the terrain in Colorado, from prairies to mountain forests, dry valleys, mesas, aspen forests turning yellow, and of course stunning mountain ranges. I only spent two days in Utah but it was gorgeous, as was Arizona. The coast in California was a bit of a letdown since it rained or was cloudy for the entire week I was there, but at that point I didn't much care since I had made it to the other side of the country. I never went more than a day or two without seeing some new sort of terrain in all of these western states which made them very enjoyable to ride through.
I took a ton of photos on the trip and there's a gallery up on my personal website with a selection of them. This was quite a long trip so there are lots of photos but I hope you'll find that they are varied enough to warrant their numbers. Link to the gallery at the bottom of this post.
Everyone You Meet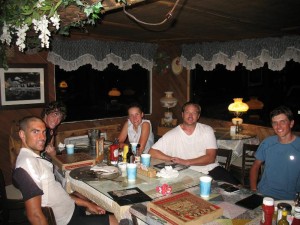 I randomly met far too many people to reflect on or even recall, but some did stand out. The Yellow Dog Tavern was the first place where I really met nice people other than cyclists. The college teachers/sports coaches in Pueblo, CO (I hate you for giving me that hangover and making the next day the hardest of my trip). Matt in Monticello, Utah who saved me by giving me bike supplies. Ashley in Gunnison. The people who saw me on the road in Utah, fed me dinner, and let me stay in their campground in Natural Bridges. And Andrew, Jon, Liz, and Matt with our little makeshift family at the end of the trip.
And then there are of course the people I was planning on meeting up with. My uncle/aunt/cousin in Cleveland, my brother in Denver, Daniel in Indiana, Marcus in Missouri, Will and Jackie/Brock/Mara in Phoenix, Kiet and Chris in LA. It was awesome spending time with everyone and I hope you all can make it out to my neck of the woods some time so I can return the hospitality.
Now and Forever
Rear panniers go on first. Gear on the left side, clothes on the right. Then string the straps under the rack. Put the dry bag with the camping gear on the rear rack and clip it onto the frame before tightening the straps around it. Clip the extra water bottles onto the rear straps, on the right side since the bag with clothes is lighter. Front panniers are next. Repair supplies and extra water on the right and food on the left. Put on my helmet and the dirty gloves that I always forget to wash. Clip into the pedals and head west. If I'm lucky it'll be six or eight hours until I finish. Twelve or more if I'm unlucky.
This was my routine for two and a half months. To say life on the road was fun does not begin to explain what it's like. There's an appeal to being in a new place every day and not knowing where you'll be tomorrow. A sense of empowerment from traveling so far with nothing but your own power. And a new appreciation for the beautiful chaos we call life. But also a fatigue develops that isn't just in the legs, the knees, or the back. And it's one that not a day or even a week of sleep can cure.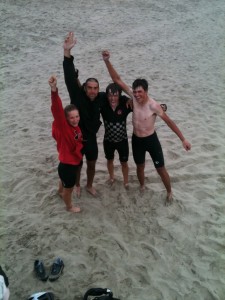 I went for over two months without seeing any other cyclists traveling east to west. For me, riding across the country by myself was the only way to do it — it would have been a completely different experience had I ridden with a group or even just another person. However, meeting everyone in the last few days made for the best imaginable finish — racing towards the coast and jumping in the ocean just wouldn't have been the same had I been alone. Being able to share that moment with others who felt the same way made it so much better.
The week I spent in California after I reached the coast and before flying home gave time for the end of my tour to sink in. No more gas station food and Gatorade. No more getting chased by dogs. But also no more experiencing brand new people and places every day. All things must come to an end.
So where does this all leave me?
Am I different than when I left? My weight has remained constant at 155. My thighs are larger but not freakishly so, and I have a pretty wicked tan that is fading fast. I now am confident in my ability to ride anywhere. No mountain is too steep or too tall. I'm probably a little more patient. A little more straightforward. A lot more confident. A little less reclusive. But by no means am I a completely different person.
I was able to confirm what I thought I knew about America. People are mostly nice, with some jerks and idiots mixed in. I had objects thrown at me from cars in Ohio and Illinois, honked at in every state, and yelled at in a bunch of them, but for the most part people were friendly. The only time I was surprised was when a dozen cars drove by while I was bleeding all over the road in Kansas and no one stopped.
So now I'm back in Arlington. I move back into my apartment on Sunday and the current plan is to resume my job in the near future. I still don't know if there's something out there I can do full time without getting bored. It sure as hell isn't biking. For now I'll be cycling just as a means of transportation, and maybe I'll do a double century (200 mile day) at some point. The possibility of another tour in the future is nowhere near the top of my mind, but it isn't entirely out of the question either. I still have to go to Banff after all.